In today's competitive business landscape, providing exceptional customer support and managing sales inquiries effectively are crucial for the success of any SaaS company. Customer expectations are at an all-time high, and businesses that fail to deliver timely and satisfactory support may lose out to their competitors. Enter SaaS First's Inbox, a comprehensive solution designed to cater to the specific needs of small to medium-sized SaaS companies. Let's see the features of Inbox and demonstrate how it can help streamline your customer support and sales processes.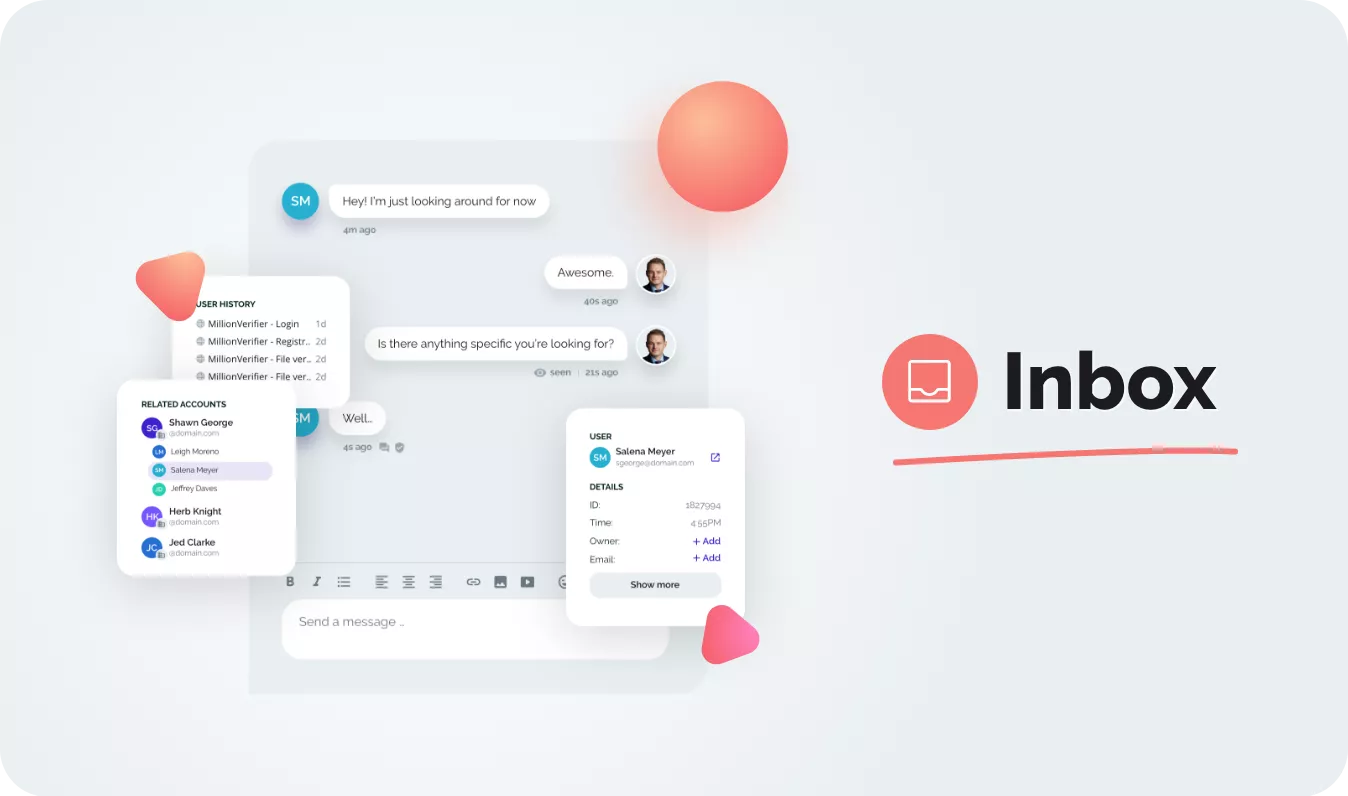 SAAS First's Inbox Module Features
Receive and reply to incoming support and sales emails
Inbox consolidates all your customer support and sales emails in one place, enabling you to manage them efficiently. You can quickly reply to queries, ensuring that your customers receive timely responses and reducing the chances of losing potential clients due to slow communication.
Chat with customers in real time
With Inbox's chat feature, you can install a chat widget on your website to engage with customers in real time. This allows you to address their concerns immediately and provide personalized support, enhancing customer satisfaction and building trust in your brand.
Open, resolved, and AI-handled conversations
Inbox offers a comprehensive view of open, resolved, and AI-handled conversations. You can easily track the status of each conversation and monitor how Milly, the AI chatbot, is handling customer interactions. This allows you to maintain control over your customer support quality while leveraging the efficiency of AI technology.
Additional customer information and browsing history
Inbox goes beyond basic chat functionality by providing you with additional customer information collected through the chat, such as their browsing history on your website. This context enables you to tailor your support and sales responses to the specific needs and preferences of each customer, fostering a more personalized and effective approach.
Rich text formatting for replies
Inbox's rich text formatting features allow you to compose detailed and visually appealing responses. You can use headings, bold, italic, lists, links, and images to create engaging and informative replies that address customer concerns effectively and professionally.
Saved replies for faster customer service
To further streamline your customer support process, Inbox lets you save frequently used replies. These saved replies can be accessed and used in future conversations, enabling you to provide faster and more consistent support to your customers.
Customizable chat widget
Inbox allows you to customize the look and feel of the chat widget installed on your website. This ensures that the chat interface aligns with your brand's visual identity, creating a seamless and cohesive user experience. With Inbox, you can add custom modules to the chat, such as a search function for your help center or an important message display. This enhances the chat's functionality and enables customers to access relevant information quickly and easily, further improving their support experience.
Discover More About SaaS First's Inbox
To learn more about Inbox and how to integrate it into your website, visit the following pages for detailed instructions and additional information:
Install Chat to Your Website: https://saasfirst.com/help/getting-started/instal-chat-to-your-website
Add Customer Parameters to the Chat: https://saasfirst.com/help/getting-started/add-customer-parameters-to-the-chat
Set Up Incoming Emails to Your Inbox: https://saasfirst.com/help/getting-started/setup-incoming-emails-to-your-inbox
Benefits of Inbox
For small to medium-sized SaaS companies seeking a comprehensive solution to streamline their customer support, the Inbox feature offers numerous advantages tailored specifically to their unique needs.
Unified Communication Platform
Managing support and sales emails from multiple channels can be overwhelming. Inbox consolidates all incoming communication in one place, making it easier for SaaS companies to track and respond to customer inquiries efficiently. The real-time chat feature allows SaaS companies to engage with customers directly on their website, fostering stronger relationships, and providing an opportunity to address concerns or inquiries instantly.
AI-Powered Assistance
Milly, the AI chatbot, can handle common customer queries, reducing the burden on support teams and ensuring faster resolution of issues. This advanced support helps SaaS companies maintain their reputation for exceptional customer service.
Personalized Customer Support
Inbox collects additional customer data through the chat, enabling SaaS companies to better understand their customers and tailor their support and marketing efforts accordingly. Access to customers' browsing history on the website allows support teams to provide personalized assistance, taking into account the customer's journey and specific pain points.
Professional and Engaging Responses
The rich formatting options within Inbox empower SaaS companies to create visually appealing and easy-to-understand responses, enhancing the overall customer experience. Utilizing saved replies for frequently asked questions not only speeds up response times but also ensures consistent messaging across the support team.
Brand-Consistent Chat Customization
The ability to customize the look and feel of the chat on the website ensures seamless integration with the SaaS company's branding, creating a cohesive user experience. The option to add custom modules, such as help center search functionality or important messages, enables SaaS companies to provide more comprehensive and relevant support to their customers.
By harnessing the benefits of the Inbox feature, SaaS companies can significantly improve their customer support operations, leading to increased customer satisfaction, loyalty, and ultimately, business growth.