At SAAS First, we understand the critical role that timely and efficient communication plays in ensuring customer satisfaction and business success. That's why we are thrilled to introduce our revolutionary "Reply with Milly" feature – designed to help you respond to incoming messages lightning-fast and streamline your customer support like never before.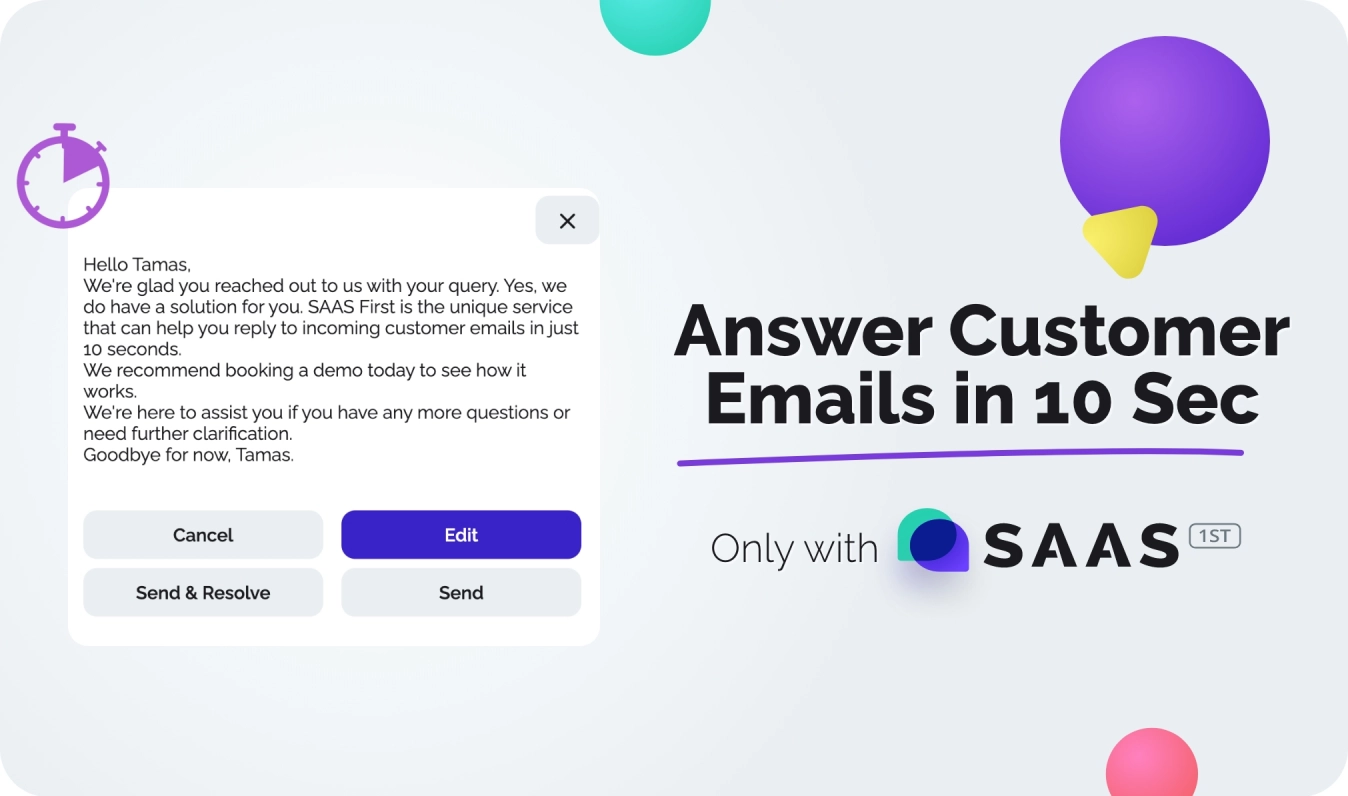 For customer support teams, handling a deluge of incoming messages can be a daunting task. Crafting personalized and prompt responses to each query requires considerable effort and poses several time-consuming challenges.
Writing emails manually is a lurking nightmare for support team managers. It risks delayed responses, brand inconsistency, and error-prone interactions. Resources are misallocated to routine queries, neglecting complex, high-value issues. As customer volumes surge, the traditional approach is at risk of collapse. Furthermore, the ghost of impersonal responses haunts every customer interaction.
The Final Solution - Reply with Milly
Get ready to revolutionize your customer engagement with AI Reply, an exhilarating merger of Milly, our AI-powered chatbot, and SAAS First's cutting-edge Inbox feature. This dynamic duo transforms your response time, dispatching emails accurately in a lightning-fast 10 seconds.
On arrival of a message, a single click on the Reply Milly button sets Milly in motion. Drawing from your expansive knowledge base – incorporating Help Center articles to website content – Milly delivers precise, contextually accurate responses, all without the need for intricate formatting or composition.
Your role? Simply jot down essential information, and Milly masterfully rewords your notes to maintain tone and context. Picture this: a seamless, human-like response crafted in a mere 10 seconds, giving you and your customers the gift of time.
Embracing AI Reply offers you the ideal solution for addressing customer messages promptly and efficiently.
Once Milly, our AI-powered chatbot, crafts a message, you have the ultimate say. Choose to decline, edit, or send the response as is. You're never a bystander - every conversation remains under your command, empowering you with unmatched control and flexibility.
Each reply costs only $0.19 or $0.59 according to your selected plans.
Ready for a taste of tomorrow's success? Experience the power of AI Reply by booking a free online demo today!
Step into the Future of Unrivaled Customer Support with AI Reply!
Dive headfirst into the next generation of customer support, with AI Reply at the forefront of this transformative journey. Partnering with your team, AI Reply strikes the optimal balance between automation and personalized service.
By stepping into the world of AI, you're gearing up your business to stay ahead of evolving customer service trends. The reward? Boosted brand reputation through speedy, efficient support, paving the way for delightful customer experiences. With AI Reply, experience rapid problem-solving, raising the bar for customer satisfaction and loyalty.